Life, Justice & Peace Commission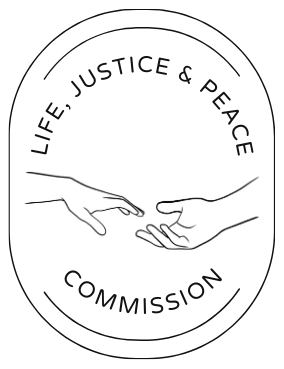 Vision Statement
Called by the Gospel of Life and Love, we promote the dignity of every human life and we carry out the corporal works of mercy in the local community and the wider world.
Mission Statement
The mission of the Life, Justice and Peace Commission (LJP) includes prioritization of the distribution of the parish's Outreach Envelope which supports various local, regional, and worldwide social justice and charitable ministries. LJP also provides a network of support for the various parish ministries that work in the areas of pro-life, social justice, peace, the missions, and charitable activities. The heart of this Commission is rooted in the rich heritage of Catholic Social Justice teaching, especially through the documents of Vatican II and the three encyclicals of Pope Francis.
Invitation to participation
All active service organizations are encouraged to send a representative to the Life, Justice & Peace meetings, which will be published in June 2022 for July 1, 2022 - June 30, 2023. Interested parishioners are also welcome to attend these meetings. Our goal is to create a prayerful network for education, sharing, and encouragement of the Church's mission to the world as incarnated in the local church. Meetings are a mix of education, visioning, and action decisions.
A Sampling of Life, Justice & Peace Ministries:
Life: Project Rachel Retreats; Prepares; Natural Family Planning; Pro-Life Prayer Vigil; and Welcome Baby.
Justice and Peace: Just Faith and Pax Christi; Care for Creation; AGAPE; and Catholic Relief Services local chapter.
Outreach: Hope House; Interfaith Coalition; Community Meal; Parish Financial Aid; Missions; Family Promise; and Shoulder to Shoulder.

NOTE: Assumption Parish Outreach Envelope
Thank you to everyone who contributed in 2022 to the Outreach Envelope collection through either the envelope or online giving. Your generosity is helping many in this community and beyond Whatcom County. The LJP Commission sets and advertises the percentage distribution for selected organizations each year, then pays the distribution annually. The list below shows how donations were allocated for the 2022 calendar year. Checks for most of the funds collected through Dec. 31, 2022, were sent out on Friday, Feb. 3, 2023.
2022 Allocation/Organization/Amount Distributed
50% -- Hope House (Financial Aid) -- $18,531.89*
15% -- Interfaith Coalition -- $3,540.45
10% -- Lighthouse Mission -- $2,450.30
10% Pro-Life Ministries
• Prepares -- $786.77
• Project Rachel -- $786.76
• Whatcom Pregnancy Clinic -- $786.77
5% -- Shoulder2shoulder -- $1,180.15
5% International
• Catholic Relief Services -- $1,180.15
5% Community Needs
• Agape Farmworker Program -- $1,180.15
*Includes donations specifically designated to Hope House, beyond the Outreach Envelope


Chair: Dan Larguier
Contact: danlarguier@gmail.com
Staff Liaison: Dr. Kathy Ernst, kathye@assumption.org